2022
(January 4) "New York Atty. Gen. Letitia James recently subpoenaed former President Trump and his two eldest children [Don Jr. & Ivanka], demanding their testimony in connection with an ongoing civil investigation into the family's business practices, according to a court filing made public Monday [January 3]. (LA Times)
(January 5) Attorney General Merrick Garland gave a televised speech about the progress of Department of Justice investigations into the 1/6/2021 attack on the Capitol. He also condemned the increase in threats of violence to individuals, and that attack on voting rights by legislatures.
(January 6) "Here is the truth. The former president of the United States of America has created and spread a web of lies about the 2020 election. He's done so because he values power over principle, because he sees his own interests as more important than his country's interests and America's interests, and because his bruised ego matters more to him than our democracy or our Constitution." (President Joe Biden speech to the nation on the first anniversary of the attack on the Capitol)
(January 9) The 1/6 Committee is looking at also referring Donald Trump to the DOJ for criminal prosecution for a conspiracy to overturn the election, in addition to obstruction of Congress and wire fraud. (The Guardian & Palmer Report)
(January 11) " 'Trump should be nervous': Georgia prosecutor has the easiest path to a criminal indictment." (Jennifer Rubin - Washington Post; Tom Boggioni - Raw Story)
(January 11) Five states (Arizona, Nevada, Georgia, Michigan, Wisconsin) filed forged certificates of Republican electors after the 2020 elections were certified by the states. Arizona filed two different slates of Republican electors. (Rachel Maddow - MSNBC)
(January 13) "FBI arrests Oath Keepers leader: DOJ charges 11 defendants with seditious conspiracy related to the Capitol attack, including the leader of the Oath Keepers, Stewart Rhodes." (CNN, MSNBC)
(January 19) "New York attorney general's office says it has identified numerous 'misleading statements and omissions' in Trump Org. financial statements." (CNN)
(January 19) "Supreme Court [8-1] clears the way for House to get Trump White House documents." (CNN)
(January 20) "Giuliani led fake electors plot." (CNN & MSNBC)
(January 25) "Judges have approved a request for a special grand jury by the Georgia prosecutor who's investigating whether then-President Trump and others broke the law by trying to pressure Georgia officials to throw out Joe Biden's presidential election victory." (LA Times)
(January 25) The DOJ has announced that they are investigating the plot to create an alternate slate of electors for seven states. (MSNBC, CNN)
(January 29) "Jan. 6 committee subpoenas (14) fake Trump electors" (LA Times)
(February 2) "Democratic Caucus vice chaiman Rep. Pete Aguilar ... (said) that former President Donald Trump is tampering with witnesses by vowing to pardon those involved in the riots if reelected in 2024." (CNN)
(February 4) "President Trump is wrong." (speech by Mike Pence to Federalist Society)
(February 14) Mazars accounting firm has dropped Trump Organization as a client. (MSNBC)
(February 17) "Judge Arthur Engoron ruled on Thursday that the New York AG's office has the right to compel Trump and his children to testify -- and now he's given them 21 days to do so." (Raw Story)
(February 23) Alexander Vindman has filed suit against Donald Trump Jr., Rudy Giuliani, Dan Scavino and Julia Hahn for witness tampering. (Raw Story)
(February 23) Russia attacked Ukraine.
(March 3) "The House Jan. 6 select committee says former President Trump and his campaign may have tried to illegally obstruct Congress' counting of electoral votes and 'engaged in a criminal conspiracy to defraud the United States.'" (MSNBC, LA Times)
(March 8) DOJ indicted the leader of the Proud Boys for participation in Jan. 6 attack.
(March 23) "Rep. Mo Brooks says Trump asked him to rescind the 2020 election, remove Biden and call special election." (Palmer Report)
(March 24) Jan. 6 Committee refers Dan Scavino and Peter Navarro for contempt of Congress; Ginni Thomas and Mark Meadows exchanged 29 texts after the 2020 election regarding the reversal of the results. (MSNBC, CBS, Washington Post)
(March 28) "... more likely than not that President Trump corruptly attempted to obstruct the Joint Session of Congress on January 6, 2021." (Judge David O. Carter per Raw Story)
(April 9) "Donald Trump, Jr. texted Meadows ideas for overturning 2020 election before it was called." (CNN)
(April 24) Macron defeated LePen in France. (MSNBC)
(April 28) The Chairman of the House J6 Committee said that the first of eight televised hearings will be held on June 8. (MSNBC)
(May 12) The House J6 Committee has issued subpoenas for fiver members of the House (McCarthy, Jordan, Biggs, Perry, Brooks) for interviews on May 26-31. (CNN, MSNBC)
(June 3) "Former Trump trade adviser Peter Navarro has been indicted by the United States Department of Justice on two contempt of Congress charges." (Rawstory)
(June 9) The House "January 6" Select Committee held a two-hour, primetime hearing that implicated Trunp in a plot to overturn the results of the 2020 election. (all media)
(June 22) "Federal investigators issued a fresh round of subpoenas to people from several states, including Georgia's Republican party chairmen." (CNN)
(June 23) House Select Committee hearing revealed that Congress members Brooks, Biggs, Gaetz, Green, Perry and Gohmert requested pardons after January 6, 2021. (all media)
(June 27) DOJ took John Eastman's cell phone when he came out of a restaurant. (MSNBC)
(June 28) White House Aide Cassidy Hutchinson testified to the J6 Committee. (all media)
(July 4) "Stay tuned for information tying Trump to mob, says committee member." (LA Times)
(July 5) "Lindsey Graham and Rudy Giuliani issued subpoenas in Georgia election investigation." (RawStory)
(July 21) The House J6 Committee completed its ninth televised hearing showing the president's during the attack on the Capitol. More televised hearings will be held in September. (MSNBC)
(July 22) Steve Bannon was found guilty of obstruction. (MSNBC)
(July 26) ?Justice Dept. investigating Trump's actions as part of Jan. 6 criminal probe" (Washington Post)
(August 8) "FBI raids Mar-A-Lago." (NBC)
(August 11) Attorney General Merrick Garland announced that the Department of Justice has requested that the search warrant served on the Mar-a-Lago property be unsealed to the public. (MSNBC)
(August 11) FBI raid of Mar-a-Lago was to retrieve nuclear secrets that Trump took out of the White House. (Washington Post)
(August 13) "Trump under Espionage Act investigation" (LA Times)
(August 18) "Trump Organization's CFO (Allen Weisselberg) pleads guilty in New York tax fraud case." (huffpost)
(August 26) "It's Over: Trump Will Be Indicted" (Daily Beast)
(August 27) "Affidavit sheds light on Trump search; Redacted document reveals Justice Dept. anticipated evidence of obstruction" (LA Times)
(August 31) "There is only one verdict consistent with this proof; we ask you to return a verdict of guilty on espionage related charges (793/2071); guilty on contempt of GJ subpoena (402); guilty on obstruction related charges (1001/1519); guilty on unlawful retention of govt docs (641)" (Andrew Weissman - Twitter/Raw Story)
(September 2) "Trump Search Inventory Reveals (43) Empty Folders Marked Classified" (Time)
(September 6) "Material on foreign nation's nuclear capabilities seized at Trump's Mar-a-Lago" (Washington Post)
(September 10) Jeff Tiedrich posted a photo of Trump assistants loading boxes onto private plane in Florida bound for Bedminster, NJ on May 9, 2021. (Twitter)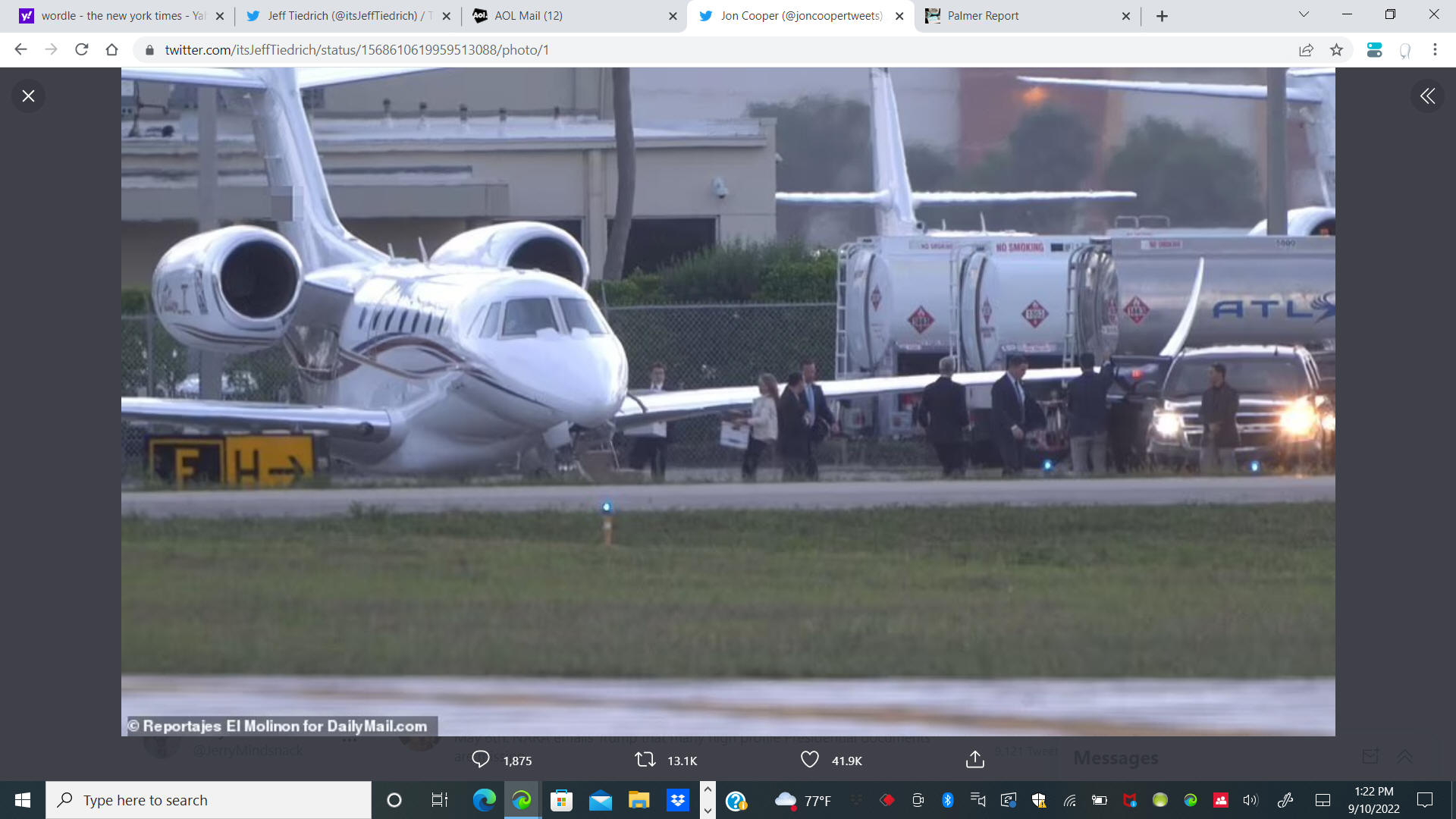 (September 21) The New York Attorney General Letitia James has sued the Trump family for fraud. (all media)
(October 13) The House January 6 Committee voted to subpoena Donald Trump for testimony. (MSNBC)
(October 21) Steve Bannon was sentenced to four months in federal prison for contempt of Congress. (RawStory)
(November 3) "In a major victory, a judge has ruled in our favor and has ordered Donald Trump and the Trump Corporation to immediately stop engaging in fraudulent business practices." NY AG James; "The judge orders (independent) Monitor to safeguard the money." Tomi T. Ahonen (Twitter)
(November 18) AG Garland names Jack Smith to be special counsel in charge of the investigation of Trump. (MSNBC)
(November 29) "Two Oath Keepers leaders convicted of seditious conspiracy" (CNN)
(December 6) Trump Organization guilty on all charges. (MSNBC)
(December 8) "Justice Department asks judge to hold Trump team in contempt over Mar-a-Lago case" (Washington Post)
(December 19) The January 6 Select Committee of the U.S. House of Representatives issued its final report that included criminal referrals of Donald Trump and others for four criminal offenses against the U.S., including "insurrection" to the U.S. Department of Justice. (MSNBC)
(December 30) The House Ways & Means Committee released six years of Trump tax returns. (all media)